Wall Mount PVP VersaPulley
$2,195.00 – $4,290.00


What is a Wall Mounted VP?
A "wall mounted" VersaPulley (WMVP) is a strength / power machine using patented MV2 resistance (conical flywheel) technology that provides responsive concentric, eccentric, plyometric resistance causing explosive maximum rate of force development and decelerating eccentric loading required for all multi-directional sports. Provides optimal balance of versatility and space efficiency. Transform any wall, pillar or squat rack into a flywheel wheel resistance training station. Pair it with the optional squat deck for vertical applications.
Smart Coach Sensor $195
A connector that allows VersaPulley to plug into Smart Coach products.
Upgrading VersaPulley with IPU display, Smart Coach Sensor is included.
What is Smart Coach?
SmartCoach™ systems are composed of: a power meter, a data acquisition and analysis software and, for flywheel and VersaPulley™ devices only.
During exercise, the power meter acquires data from the training device and feeds it into the software. The analysis software is the same for the entire range of products.

What Is VersaPulley?
The Wall Mounted VersaPulley is an inertial flywheel-training device relied upon by many of the world's top teams, universities, therapists, and trainers to prepare their athletes for the highest levels of competition.  What differentiates the VersaPulley from its competitors is the ability to perform exercises in both a horizontal and vertical application.  This allows its users to train at any load, at any speed, and in any plane within an infinite amount of exercise variation.
In most team sports, players are required to repeatedly perform short, explosive, efforts such as accelerations and decelerations during changes of direction 2 .  The capacity to dissipate the forces during abrupt deceleration (breaking ability) is critical to injury prevention, while the ability to decelerate and reaccelerate in a short period of time (reactive strength) is paramount to enhanced performance.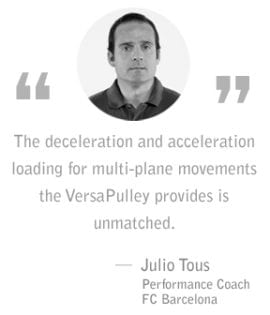 The VersaPulley is designed to create those moments of eccentric overload, allowing the athlete to be exposed to these stresses in a non-impact, concentrically driven and eccentrically overloaded environment.   VersaPulley accomplishes this using our patented MV2 technology – resistance-generating rotating inertial flywheel.
Our device picks up where traditional gravity-based weights, chains, bands, air-powered machines stop.  While all of these methods are important to the training, rehabilitation, and reconditioning of athletes, these methods offer mostly constant concentric and eccentric load in exercises emphasizing vertical actions. They rarely encompass horizontal/lateral actions offering eccentric overload 1 – which is exactly why the VersaPulley was developed.
Studies show VersaPulley's rotational inertial resistance, with concentric and eccentric inertial loading, compares to free weights at 45% and 65% of 1 Rep Max in the Front Squat, therefore should be considered a high power training device when used for rotational training in the horizontal plane.
For example, more force at slower speed or faster speed with less force. Easily decrease or add weights on fly wheel. In opposed pairs directly across from each other. For faster speeds remove weights or to increase force at slower reps, add weights.
Wall Mounted Workout Station
With responsive resistance there are no weights to select or change
No "sticking point" as is the case with weights where the resistance is limited to the weakest muscle/joint angle.
Automatically produces an explosive resistive force that matches the capability of any user from the first to the last repetition.
Each rep can compound on the next for unlimited Force/Speed production.
Exceptional inertial loading for superior eccentric resistance that bands and air equipment fail to provide.
Our NEW VersaPulley squat deck option adds unique variety, versatility and flexibility to any strength and conditioning training program.
Using the elevated deck, with our patented flywheel technology, provides an increased / deeper squatting range of motion. Deck can be easily moved and conveniently stored away—maximizing floor space.
All harness and belt squat training
Front squats
Dead lifts
RDLs
Split squats
Single leg squats
Staggered stance squats
Calf raises
Features:
Removable support arms—for safe and controlled movements
Adjustable hand grips (4 settings)
Heavy duty, double welded, commercial construction
Standard grey color (custom colors also available for additional cost – more info, please call 1.800.237.2271
Space efficient at 32" W x 19" D
Weight 85 lbs.
Short WVP deck $1495.00
The VP Outperforms All Other Modalities.
The wall mounted VP is a High-Low responsive resistance exercise machine. It features seven vertical pulley positions allow the user to perform a variety of exercises from a lat pull at the upper position to the biceps curl at the lower position. Unlimited lateral and rotating exercises up to a six-foot long range of motion are available. The machine can be used in a stand up or sit down position to maximize available exercise motions. MV2 technology is an Infinitely Variable Cam using inertial resistance that automatically generates a responsive resistance to exercise. This form of resistance is user defined and automatically loads the muscles for explosive movements, through the full range of motion, to match the capability of the user from 4 – 800 lbs. Easily decrease or add weights on fly wheel. In opposed pairs directly across from each other. For faster speeds remove weights or to increase force & power output add more weights. By selecting 1 of 3 settings you can customize the speed to force ratio. For example, more force at slower speed or faster speed with less force.
*These statements have not been evaluated by the FDA. These products are not intended to diagnose, treat, or cure any disease. Benefits listed are based on research that may or may not be independent of Heart Rate Inc. products.
Additional Information
| | |
| --- | --- |
| Weight | N/A |
| Total Body | Yes, High-Low strength system |
| Compliant Resistance | 4-400 pounds |
| Maximum Speed | Unlimited |
| Adjustments | 1-3 Speed & Power Settings |
| Power Requirements | None |
| Height | 7\\\\\' 4" |
| Weight | 65 Pounds |
| Base Size | 22" wide x 18" tall |
| Structure | Steel, Individually hand welded for superior quality. |
| Warranty | 3 year limited |
| Frame Warranty | 3 years |
| Display Electronics | NA |
| Parts/Labor | 1 Year |
| Options | No IPU Display, No Smart Coach Sensor, No IPU Display, Add Smart Coach Sensor, Add IPU Display includes Smart Coach Sensor |
| Squat Deck | No Deck, Short Deck, Tall Deck |