CALLING ALL STUDIOS / GYMS - WE NOW OFFER GROUP TRAINING CERTIFICATIONS FOR YOUR INSTRUCTORS
WHO ARE WE?
For 42 years, VersaClimber is the original total body vertical cardio climbing machine. It provides high intensity cardio, low impact, max sweat, strength training all combined with rhythm based choreography - on a VersaClimber. But that's only a small part of it. A VersaClimber class isn't just a workout, it's a total body experience.
INTERESTED IN BECOMING RHYTHM BASED VERSACLIMBER GROUP TRAINING CERTIFIED ??
VERSACLIMBER GROUP TRAINING RHYTHM BASED GENERAL INFO
Our current certification program certifies trainers for studios / gyms who are looking to enhance their VersaClimber rhythm based group training knowledge and skills. This unique training course combines exercise science, instructional skills, and music appreciation. Trainees will be taught basic, intermediate, and advanced exercises as well as modifications to accommodate different fitness levels. Combined with lectures and labs that will cover a range of topics, including, proper movement patterns, muscle recruitment, rhythm and beats, performance skills and stage presence.
Throughout the training, trainees will have the ability to evaluate their body of work and receive feedback from the master trainer. We climb hard together, lead by the Master Trainers who support and push you to reach your best selves. We climb high, dig deep, sweat hard and recover together.
Please note, group training certifications are offered to groups or small teams who are looking to get VersaClimber certified in the art of group training. At this time, we are offering individual certifications, click below for more information.
Only training seminars that are offered through VersaClimber and taught by a Certified Master Teacher Trainer are recognized by VersaClimber and granted access to instructor portals.  While many studios choose to offer their own continuing education classes, these courses do not consider you as a VersaClimber Certified instructor. 
FOR MORE INFO ON TAKING YOUR VERSACLIMBER RHYTHM BASED TRAINING TO THE NEXT LEVEL CONTACT US: CERTIFICATION@VERSACLIMBER.COM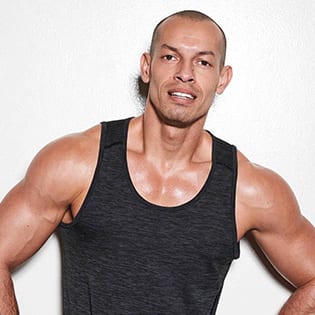 Master Trainer
CA, United States
Loui Pacheco is a highly sought after Los Angeles based Personal Trainer, Group Fitness Instructor, Global Fitness Consultant, and Master Teacher Trainer.
He was born in Puerto Rico and grew up in Florida where he began a professional dance career at the age of 17.
His inherent love for music and an uncanny ear for rhythm and beats led him to work with some major names in entertainment, including Premio Lo Nuestro, Cindy Crawford, The Hard Rock Hotel and Casino, and Cirque du Soleil.
Become A Certified Trainer
FOR MORE INFO ON TAKING YOUR VERSACLIMBER TRAINING TO THE NEXT LEVEL CONTACT US