CM Club Model
Shorter Step Height The VersaClimber CM has been designed to meet and satisfy any fitness level–now 50% easier to use. It now features shortened step height of only 10 inches; Where as the SM and LX series offers a 1- 20 inches step height.
List Price CM: $4,695  (Features a reduced step of 1-10 inches and increased upper body range of motion 1-27 inches)
$3,995.00 – $4,990.00
Select options below for price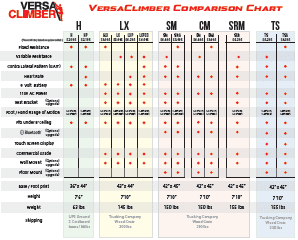 The CM (Club Model) VersaClimber  was uniquely designed to provide a 50% easier work out–making it ideal for those gym owners or individuals who want to offer a more relaxed approach to training. 50% of the step height was eliminated. Reducing the normal step height from 1-20 inches down to just 1-10 inches, while increasing the upper body range of motion to 1-27 inches–essentially cutting the work load by 50%.
Research proves VersaClimbing for 20 minutes or less, actively engages/tones all the major muscle groups and is more effective and time efficient compared to Treadmills, Ellipticals, Steppers and Bikes.
But don't be fooled, the CM with its reduced step height, still provides an exceptional full body has been refined and improved for a new generation of health & fitness enthusiasts.
The CM offers a wider range of cardio & strength versatility. From its ability to apply longer arm reach for greater reach and back development to explosive sprint training movements, and every type of cardio training in between to meet your specific training requirements.
Need commercial financing options for your next VersaClimber purchase? Be sure to check out Innovative Lease Services.

*These statements have not been evaluated by the FDA. These products are not intended to diagnose, treat, or cure any disease. Benefits listed are based on research that may or may not be independent of Heart Rate Inc. products.
Weight
N/A
Total Body

Yes

Contra-Lateral Movement Pattern

No

Variable Tension Control

0-500 lbs

Step Height

1-10 Inches

Arm Travel

1-27 Inches

Max User Weight

350 lbs.

Module Display

Time, distance, calories, imperial, metric, feet per minute, virtual opponents and land marks to select. Bluetooth connectivity upgrade OPTION – provides smart phone connectivity for use with free VersaClimber phone app.

Digital Programs

6 Opponents (Race), 6 Structures (Distance)

Maximum Speed

350 Vertical Feet Per Minute

Climb Angle

75 Degrees

Heart Rate Monitoring

Yes

Grip/Pedal Adjustment

Yes, 3 hand grip settings

Power Requirement

110 Volts

Height

7ft 10" (assembled)

Weight

150 lbs

Base Size

43" wide x 46" long

Structure

Steel, Individually hand welded for superior quality.

Warranty

3 year limited, 3 year frame warranty
2 year rollers, chains, sprockets and slides
1 Year display electronics
1 Year Parts/Labor

Bluetooth

With Bluetooth, Without Bluetooth

Running Hand Grips

No. Optional accessory not included.

Lower Limb Isolator

No

Adjustable Seat

No

Range of Motion Limiters

No.

Resistance

Fixed Resistance, Variable Resistance
The SM comes standard with the following:
Heart Rate Monitoring
Variable Resistance Control (0-500lbs force resistance)
Quick Release Straight Hand Grips
Soft Padded Side Hand Rails
Contra-Lateral Movement Pattern / Cross Crawl